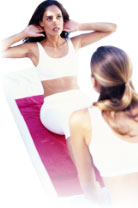 "Our deepest fear is not that we are inadequate.
Our deepest fear is that we are powerful beyond measure.
It is our light, not our darkness that most frightens us.
We ask ourselves, Who am I to be brilliant, gorgeous, talented, fabulous?
Actually, who are you not to be? You are a child of God.
Your playing small does not serve the world.
There's nothing enlightened about shrinking so that other people won't feel insecure around you.
We are all meant to shine, as children do.
We were born to make manifest the glory of God that is within us.
It's not just in some of us; it's in everyone.
And as we let our own light shine, we unconsciously give other people permission to do the same.
As we're liberated from our own fear, our presence automatically liberates others."
Marianne Williamson
YOU are powerful beyond measure. Whatever your thoughts on God and being His child, you – yes – YOU are brilliant, gorgeous, talented and fabulous.
Today girlfriend, accept your talents. Let your brilliance shine. Liberate your fears. And be the fabulous friend you were meant to be.
And, maybe share the above inspiration with a friend who needs to hear that she too is brilliant, gorgeous, talented and fabulous. Be that kind of friend. Because, life is better together with our girlfriends!
Have a fun, friend-filled Wednesday!
———————————————
BIG,

BIG

,

BIG ANNOUNCEMENTS!
First, do you have a favorite author? Or someone who you admire – a lot?Well, we're talking with a bestselling author whom we love and admire! (We loved interviewing her on this podcast and video.) The amazing, wonderful, brilliant and fun KRIS RADISH is graciously spending Monday evening with us for our February Girlfriendology / Wine Sisterhood Book Club. JOIN US – Monday, March 1st, 7-9pm EST on Girlfriendology!
Second BIG announcement – we want to buy your groceries! Kroger has given us two $25 gift certificates to award to our readers. Just add a comment and you're in the running. Thanks and good luck!!
Here's a few of our favorite GIRLFRIEND GIFTS – Girlfriendology (perfume, jewelry and more), Amazon, SHOP.COM
, American Express® GiftCards
, Sierra Trading Co.,
Uncommon Goods, Crocs, Vera Bradley, Chocolate.com
and Expedia. Create your own cards (for business, holidays, etc.) at SendOutCards.
———————————
For more girlfriend inspiration visit:
p.s. And … be a friend to Girlfriendology! Share some 'Daily Girlfriendology Inspiration' with your girlfriends by clicking the Facebook LIKE button below and also, when you're on our Facebook page, SHARE IT WITH YOUR GIRLFRIENDS. (Please?!) Thanks girlfriend!